July 25, 2023
Mundesley, Norfolk: A Prime Choice for Your Holiday Home Investment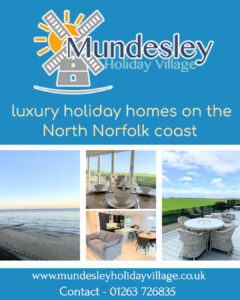 Mundesley, Norfolk: A Prime Choice for Your Holiday Home Investment
If you're searching for an ideal holiday home destination in Norfolk, look no further than the captivating coastal village of Mundesley. Situated along the stunning North Norfolk Coast, Mundesley offers a unique combination of natural beauty, a charming seaside atmosphere, and a plethora of recreational activities, making it the perfect place to invest in a holiday home. Here are several compelling reasons why Mundesley, Norfolk, stands out as an excellent choice for your holiday home investment.
Coastal Beauty: Mundesley boasts breathtaking coastal beauty, with its unspoiled sandy beach and striking cliffs. Owning a holiday home in Mundesley allows you to wake up to the sound of waves crashing on the shore and savoring panoramic sea views—a dream come true for beach lovers and nature enthusiasts.
Tranquil Ambiance: Unlike some of the busier coastal towns, Mundesley exudes a tranquil ambiance that attracts those seeking relaxation and peace. It is an ideal escape from the hustle and bustle of city life, allowing you to unwind and rejuvenate in the lap of nature.
Seaside Activities: For those who crave seaside adventures, Mundesley offers an array of activities to indulge in. From swimming and surfing in the refreshing North Sea to beachcombing and building sandcastles with family, there is no shortage of fun-filled moments on Mundesley's beach.
Charming Village Atmosphere: Mundesley retains its traditional village charm, with picturesque cottages, quaint shops, and friendly locals creating a welcoming atmosphere. Owning a holiday home in this charming village allows you to become a part of the close-knit community and experience the true essence of Norfolk hospitality.
Coastal Walks: Mundesley serves as an excellent base for coastal walks and hiking adventures. The Norfolk Coast Path runs through the village, providing access to stunning cliff-top trails and panoramic views of the North Sea. Walking enthusiasts will relish the opportunity to explore the scenic landscapes on foot.
Family-Friendly Destination: Mundesley is a family-friendly destination, making it an ideal place to create lasting memories with loved ones. The beach's gentle slope and lifeguard patrols during the summer months ensure a safe environment for children to enjoy the water. The village park, amusements, and nearby attractions cater to families of all ages.
Golfing Paradise: For golf enthusiasts, Mundesley offers a treat with its stunning golf course overlooking the sea. Playing a round of golf amidst the picturesque coastal scenery is an experience like no other.
Accessible Location: Mundesley's proximity to major road networks and nearby towns like Cromer and Norwich makes it easily accessible from various parts of the UK. This convenience ensures that you can enjoy your holiday home whenever you desire without the hassle of long journeys.
In conclusion, Mundesley, Norfolk, is an enticing choice for a holiday home investment, offering coastal beauty, a tranquil ambiance, a range of seaside activities, and a charming village atmosphere. Whether you seek relaxation, family fun, or outdoor adventures, Mundesley has it all. Invest in a holiday home here, and you'll not only gain a personal retreat but also a rewarding opportunity to be part of this enchanting coastal community.