August 28, 2023
Holiday Home Investments on the north Norfolk coast, Mundesley.
Holiday Home Investments on the north Norfolk coast, Mundesley.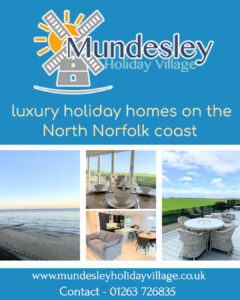 We are delighted to introduce you to the exceptional investment opportunity that awaits you at Mundesley Holiday Village. As you explore the exciting realm of property investment, we invite you to consider the myriad benefits of owning a holiday home in this picturesque and thriving coastal community.
At Mundesley Holiday Village, we believe that investing in a holiday home goes far beyond mere ownership—it is an investment in unforgettable experiences, lasting memories, and substantial financial gains. In this letter, we will outline the reasons why a holiday home at Mundesley is a smart and rewarding investment choice.
1. Prime Location and Scenic Beauty:
Nestled along the breathtaking coastline, Mundesley Holiday Village offers a spectacular backdrop for your investment. The village's proximity to the beach, rolling hills, and charming village life makes it a magnet for tourists seeking relaxation and rejuvenation. Such a location ensures a consistent flow of visitors throughout the year, maximising the potential for rental income.
2. Lucrative Rental Income:
The rise of staycations and the increasing trend of holidaymakers seeking self-catering accommodations have boosted the demand for holiday homes. By investing in a property at Mundesley, you tap into this lucrative market. The village's popularity, combined with effective property management, translates to a reliable stream of rental income. Our team can assist you in optimising your property's rental potential, ensuring that your investment generates impressive returns.
3. Flexibility and Personal Use:
Owning a holiday home at Mundesley not only provides an excellent investment opportunity but also grants you the flexibility to enjoy your property, It's an invitation to create cherished memories with family and friends in a serene environment. Balancing personal use with rental income ensures that you reap the benefits of both worlds.
4. Full-Service Property Management:
Managing a holiday rental property can be demanding. However, at Mundesley Holiday Village, we offer comprehensive property management services that take the hassle out of owning a holiday home. Our experienced team handles everything from guest bookings and check-ins to cleaning and maintenance. This means you can enjoy the benefits of your investment without the stress of day-to-day management.
5. Community and Lifestyle:
Investing in a holiday home at Mundesley is not just a financial decision—it's a lifestyle choice. The village offers a close-knit community atmosphere where residents and visitors can connect, creating a sense of belonging and camaraderie. The vibrant local culture, outdoor activities, and leisure facilities provide an all-encompassing experience that goes beyond traditional property investments.
6. Proven Track Record:
Mundesley Holiday Village boasts a solid track record of successful property investments. Our team is committed to ensuring that each investor's experience is seamless, profitable, and enjoyable. With a history of satisfied investors and glowing reviews, you can have confidence in the reliability of this investment opportunity.
In conclusion, the advantages of investing in holiday homes at Mundesley Holiday Village are abundant and diverse. From consistent rental income and personal enjoyment, this opportunity encapsulates the perfect blend of financial prosperity and lifestyle enhancement. We encourage you to consider this exceptional investment and embark on a journey that promises both immediate and long-term rewards.
Should you wish to learn more or discuss the investment opportunity further, our dedicated team is readily available to answer your questions and guide you through the process.
Feel free to contact us on 01263 726835.
Thank you for considering Mundesley Holiday Village as your next investment destination.
We look forward to the possibility of welcoming you to our community and helping you achieve your investment goals.