Things to do in Norfolk this spring
Spring has arrived and there's no better time to visit Norfolk. Whether you're visiting for a day, or you've planned a weeklong stay with us, we've put together a list of events happening this spring we think you'll definitely be interested in.

Feed the lambs at Wroxham Barn
February – July
Looking for a day out with the family?  Take the kids or grandchildren to bottle feed the newborn lambs at Wroxham Barn.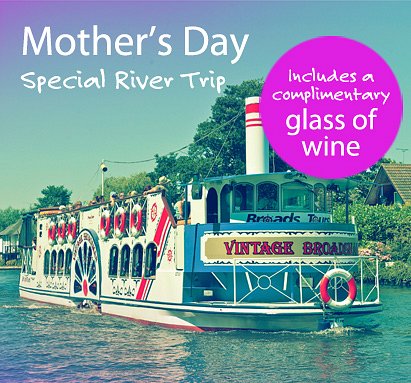 Mother Day Special Boat Trip
26th March
Treat mum with a Mother's Day Special Boat Trip along the Norfolk broads. If you haven't visited the broads then you're simply missing out. Featuring miles of peaceful rivers, mum is sure to relax with her complimentary glass of wine and the fantastic views on display.

National Trust & Cadbury Easter Egg Hunt
1st April
Take the kids for a tasty day out. Find the clues hidden around the park and find your way to some delicious Cadbury treats! A fun day out for the family.
The White Rabbit Easter Trail
1st – 17th April
The railways of Norfolk bring many tourists each year. This year take part in the white rabbit Easter trail at Wells and Walsingham light railway. Join Alice in Wonderland to hunt for clues along the line. For adults, take in breath-taking views whilst riding through the picturesque North Norfolk countryside.
Feed the lambs at Felbrigg Estate
2nd – 3rd April
Another lamb feeding event that the kids are sure to enjoy. The National Trust website states that some lucky people may even be able to witness a lamb being born!
Russells International Circus
3rd – 16th April
Great Britain's biggest circus heads to Norfolk! From the globe of death to the unique foot archery act, there's plenty on to keep you entertained.

Easter at Holkham Hall
14th – 17th April
Every year Holkham Hall puts on its annual Easter events. Over four days you can meet the Easter Bunny, take part in a trailer ride and explore the many animals that live around the hall.
Bluebells at Blickling
1st – 31st May
During the month of May, Blickling Hall will be transformed blue to celebrate the season of the bluebell. Visit the hall to see the bluebells in all their glory and take part in one of the many events happening throughout the month, like the afternoon of blues music on Saturday 27th.
Norfolk and Norwich Festival
12th – 28th May
Each year the city and parts of the county are transformed for celebrations of music, theatre, circus, dance and much more. This year features a giant inflatable moon!
Cromer & Sheringham Crab Festival
20th – 21st May
Each year Cromer and Sheringham host their annual Crab and Lobster Festival. The celebrations start on the Friday night with a seaside variety concert at the famous Pier, with events spilling into Saturday and Sunday. And of course, the famous (and delicious) Cromer Crab will be on offer.

Spring Tours of Holkham Garden
21st May
Take a look around the private gardens of Holkham Hall which are typically closed to the public. The arboretum is full of beautiful spring blooms this time of the year. Booking is a must as these tours are very popular!
Sheringham Park
All Spring
Enjoy early spring in Sheringham Park, the perfect place for wildlife spotting. See if you can spot a woodpecker and keep an eye out on the migrating birds returning to breed.
Cromer Pier
All Spring
The famous Victorian pier will be holding a whole host of events throughout the spring. From big band concerts to ballet, there's a show for everyone to enjoy. Check out their 'What's On' list.
North Norfolk Coast
All Spring
We couldn't resist adding the Norfolk coast to this list. In the spring, the coast is beautiful. The warm sun lights up the golden sands, and the rising temperature means you can enjoy the cool coastal air. With over 60 miles of coastline to enjoy, you'll find the type of beach you're looking for. Our own Mundesley Beach features on Visit Norfolk's 'Top 10 Beaches in Norfolk' list!
Of course, this is just a condensed list of the great things you can do in Norfolk this spring. Norfolk has plenty more fantastic events on offer for you or the family to enjoy. If you're looking for a North Norfolk base to stay at whilst enjoying these events, check out our Holidays page. We have a great list of holiday cottages for you to stay in ranging from barn conversions to modern holiday bungalows, as well as being on the doorstep of one of Norfolk's top 10 beaches!